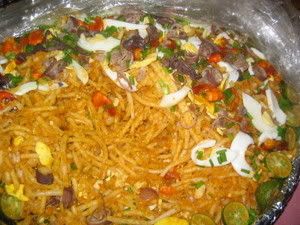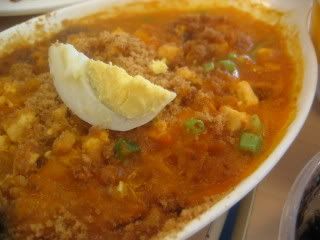 Above are my two palabok. As you can see, they don't look the same though both of them are called palabok, a Filipino dish made from white noodles and garnished with shrimp paste, smoked fish called tinapa, eggs and other sea foods like shrimps and or squids.

When I visited my mother in Laguna province, my younger sister ordered this palabok and so this is home made and especially cooked for me. My sister paid six hundred pesos for a "bilao" of this palabok and I say it's not bad, considering it tasted excellently. The squids and shrimps tasted so nice for they seemed to be so fresh from Infanta, I could say. It may look a little bit pale in colouring but just looking at it you'll know it is a real yummy palabok. Though, it may represents a probinsya look, I was so happy with my sister for allowing me to taste one of my favourite Filipino dish.

On our last day of stay in the Philippines, I was still craving for the deliciousness of palabok. So I told my sisters that before I fly home, I want to eat at Goldilocks for their palabok. You know, Goldilocks palabok was one of my favourite then. So we went to a Goldilocks outlet in Metro Market Market. And as you can see, the palabok looked so nice too. Only I was not satisfied. It did not taste the way I envisioned it. My sister opined that since the eatery was only an outlet, they never served the real taste of the original Goldilocks palabok.

And so this is my two palabok: Same in colour, same in name, almost same in ingredients. But the one from the province tasted better than the one served by a well known establishment.

So don't be deceived by the looks and the place where palabok is served. For me, the home made palabok will always be the best.