During my early childhood, I was not a vegetable eater. My mother's mother whom we called "Lola Cleta" used to scold me for not eating vegetables and almost always compared me to my cousins who ate veggies with much gusto. When I got sick one time, my grandmother prepared stir-fried vegetables with liver for me. Since there was no choice for me then but to eat, I tried eating a spoonful. To my surprise, I took one more spoonful till I was able to finish eating the whole bowl of veggies. The sweet taste of the snow peas and carrots made me like the dish more. And that was the beginning of my love affair with stir-fried vegetables.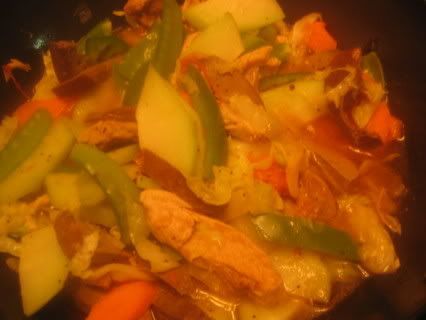 When I visited my twin grand daughters in Williamsburg last year, I found out that one of the twins, Darrielle, likes to eat vegetables. That was why we branded her that time as the 'vegetarian" twin. So, with my stir-fried vegetables, I am setting aside one bowl for my dear Darrielle. Surely, she'll like this.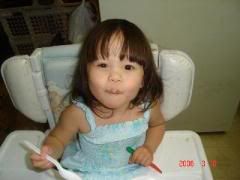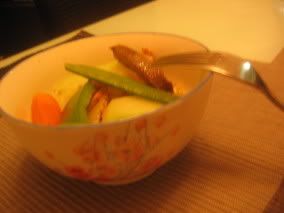 And for you who love chop suey here's how I prepared it.

INGREDIENTS:

1 pound fresh pig's liver
1 pound pork
1 teaspoon soy sauce
1-2 teaspoons oyster sauce
1 teaspoon salt
pepper to taste
1 piece Knorr beef stock cube
½ pound snow peas
½ pound Beijing cabbage
1 piece sayote
1 piece carrot
1 large green pepper
1 onion
Garlic
Oil for stir-frying

PREPARATION:

Cut the pig's liver and pork into strips. Add seasonings and marinate for 10 minutes.

Cut all the vegetables and slice diagonally.

Heat the wok and add oil. When oil is ready, stir- fry pork and pig's liver until the redness is gone.

Take another wok and heat it and add oil. When oil is ready, stir-fry each of the vegetables. Add salt and pepper to taste . Add water and the beef stock cube. Gradually add the sauces and stir to thicken. Add and combine the the stir-fried pork and liver. Once it has boiled, it is ready to be served hot.

So do you like my version of chop suey?