Ginisang Patola


I still remember up to this day that night when my two older brothers asked me to join them in watching a TV show in a house on the opposite side of the road in my little barrio in that small town in Laguna. On the way home after the show my brothers asked me to run once we reached the big house for they said it was a haunted house. When we reached that haunted house, I was so scared and ran so fast. I was so shaken. For it seemed that the white ghost was running after me.

After a few months, I learnt that the big house was not really a haunted house but my grandmother's house. It was so sad to learn that I have a grandmother whom I knew existed only on the day she died. I could not explain what I felt then. I was angry.

A few months later, after my father was elected as the municipal mayor of our town, my family shifted to the big house. The house where they said ghosts were abound. I neither never ever experienced any sightings nor ever see that white lady or the golden hen which they said laid a golden egg and gave my grandmother just enough fortune. But I was happy for I felt that my grandmother was there with me. I was sure of that.

When I became an adolescent, I realized and understood the family conflicts that happened and why I never even see my grandmother in person then. And now that I am married myself, I came to understand my parents and my grandmother the more. And why they behaved that way then.

One old lady who knew my grandmother told me once that my grandmother liked eating ginisang patola combined with dilis and hibe. That was why I was happy every time any of my mother's relatives cooked that dish. I felt that through eating that dish, I felt a nearness to my grandmother.

And over here in Singapore, I also cook ginisang patola. It is easy for me to cook as the ingredients like the split fish and the dried prawns come handy in convenient packages.

Here's my ginisang patola:




















Ingredients: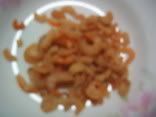 salt and freshly ground pepper
medium sized patola, sliced
Heat oil in a pan and fry the split fish, then the dried prawns. Set aside. In another casserole, heat the olive oil and fry the garlic then onions until soft. Add the sliced patola and fry gently until cooked. Add a bowl of water and cook for at least 5 minutes. Then add the mee sua. Add salt and ground pepper to taste. Cover and cook until the mee sua is soft enough. Add the fried split fish and fried dried prawns and then stir. Serve hot.