How can we forget summertime especially those summers when we were young? Like every body else, I also cherish my childhood summers. Not only for those memorable moments, but also for the food associated with it especially those that we indulged with our puppy love(s).

But on this topic, I decided to tell about my first summer away from home, not with a puppy love, but with distant relatives who made me realised the simplicity and beauty of ordinary life through simple food.

After my graduation from grade school, my mother decided to let me have my first vacation with her first cousin in a remote place called Liwayway, Mauban Quezon. We travelled for almost a day crossing rivers to reach my Tita's house which was a nipa house very near the edge of the river. Imagine that! I was so dismayed and was so angry with my mother for giving me such a horrible vacation place.

It was a new experience for me seeing people eating from banana leaf using their bare hands and drinking water taken from the river. I really wanted to cry then and told myself that I would not eat anything in that place.

Later, I noticed my Tita's mother preparing to cook for dinner. She took some leaves from the back of their house and with coconut milk and "tuyo" or dried fish, she cooked it and served hot on their bamboo table. They all said in unison: "kain na!!!". I told them that I was not hungry yet. And all of them ate with gusto and were so proud with that yucky dish on their table.

As they were eating, I heard somebody said:"kakain din yan pag nagutom." And very true, my stomach grumbled. With shaking hands, I tried to take a small portion of the green leaf with a string still on it. So yucky!!! I told myself and closed my eyes. As I brought it on my mouth, I tasted the salty fish combined with the taste of the coconut milk. Ohh!! It was nice! I took some more bites and hurray!! I ate with gusto and consumed the whole portion of the ginataang gabi.
And that was the beginning of my appreciation of simple food from the province.

So everytime summer comes, I always remember my first summer away from home. I always remember the ginataang gabi who made me realised that a poor man's food also taste heavenly.

Since the day I appreciated ginataang gabi, I don't label it a poor man's food anymore. For me, it is already a novelty food .

What makes it more interesting is that whenever I visit my mother in Laguna, she always see to it that there is ginatang gabi for me. Just like my recent visit there. They served the best ginataang gabi for me.

Just look.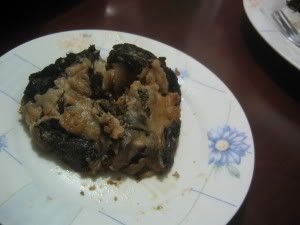 NOTE: I am on a 15 months course. I'll visit blogs and post my entries when time allows. Thank you for all those who visit my site. Thank you very much!!!!